For Winston/Royal Guard Type 62-CC-2S

Liquid Liquid

Coalescer Separators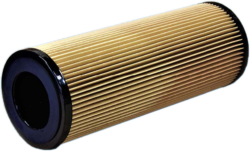 WCT6--P series liquid separator cartridges are furnished in the Type 62 Liquid-Liquid Coalescer Separator for the separation of two immiscible liquids. The separator filter is hydrophobic allowing oil to pass through while repelling water.  These liquid separator cartridges are used as the second stage in conjunction with the first stage WCT6--R coalescing cartridges.
The media is treated cellulose and pleated for maximum surface area. The pleated media is supported by a galvanized or tin plated perforated metal core. A galvanized or tin plated metal end cap with bolt hole can cover one end as required for installation.
Benefits:
Low pressure drop.
Pleated design offers efficiency at an economical cost.
Operations Specifications for these Separator Cartridges:
Flow direction is outside to inside.
Available in 5 and 25 micron ratings.
Recommended differential pressure for element change-out is 15 P.S.I.
Recommended maximum operating temperature is 240 ⁰ F.
Buna-N Gaskets are standard.
Galvanized or tin plated end cap and core.
Standard Dimensions:
WCT614P 6" O.D -- 14-1/2" Long -- 3-1/2" I.D.
WCT616P 6" O.D -- 16-1/4" Long -- 3-1/2" I.D.
Other available lengths: 11-1/4", 22-1/4", 28-3/4", 33-1/4", 36", 40", 44", 48", 56".
Standard Part Numbers and Micron Ratings:
WCT614P (5) for 5 micron
WCT614P (25) for 25 micron
WCT616P (5) for 5 micron
WCT616P (25) for 25 micron