Steam Sample Coolers  •  Boiler Water Sample Coolers  •  Process Liquid Sample Coolers
Winston/Royal Guard Series 500 Sample Coolers provide excellent heat transfer for cooling samples of hot water, process liquid, gas, steam, or vapor. The coolant can be cold water or other cool medium. The sample cooler can also be used to warm a cold sample using hot water, steam, or other hot fluid. For additional heat exchange, two or more sample coolers can be installed in series.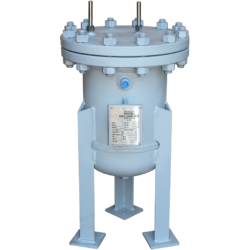 Photos of Type 520-FC Sample Coolers
Sample coolers are used to cool fluids or vapors to a point they can be safely handled for collection and analysis.  With information found on the Sample Cooler Inquiry Questionnaire, a sample cooler can be provided for applications such as steam, boiler water, chemical processes, and others, in high pressure and high temperature ranges.  For instance, steam sample coolers can provide condensate at a safe handling temperature.  Boiler water sample coolers are critical for analyzing and treating boiler water to prevent scale buildup and corrosion.
The Type 560 sample coolers feature a flanged top for easy cleaning and a single spiral coil design. The sample medium in the tubing and the coolant in the shell side flow in a counter-flow, or opposite direction for maximum heat transfer.
The Type 570 is manufactured similarly to the Type 560 except it features a seal welded top for a more cost efficient design.
The Type 520 sample coolers provide the maximum heat transfer, featuring a much greater sample tubing length. The sample tube, in a double helix configuration, enters through the flanged top of the cooler and coils down and around the interior of the shell before coiling up inside an interior chamber and out the top. The cooling medium enters at the top of the interior chamber and exits at the top side of the cooler exterior shell, providing a counter-flow of the sample and cooling mediums.
The Type 511 is similar to the Type 520 as it also has the double helix coil. However, the Type 511 features a fully welded top and bottom cap to enable higher shell pressure design and is not limited by flange pressure ratings.
The Type 530  features an open top design for use with low pressure cooling water.
Options include ASME Code stamp for the Types 520, 511, and 560, support legs or mounting bracket, and other customer requirements.