For Winston/Royal Guard Type 62-CC-2S

Liquid Liquid

Coalescer Separators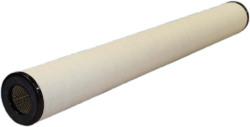 WCT6--R coalescing cartridges have a flow path from inside to outside. These coalescing cartridges are furnished in the Winston/ Royal Guard Type 62 Liquid Liquid Coalescer Separator to coalesce trace amounts of water into larger droplets in a liquid hydrocarbon stream. It is used as the first stage in conjunction with the second stage WCT6--P separator cartridge for the separation of two immiscible liquids.
The media tube is made up of materials specifically designed to enhance the process of coalescence and is supported by a perforated metal core. A metal end cap with bolt hole covers one end. The cartridge is wrapped externally with a cotton sock for additional coalesced water drainage.
Benefits:
Robust metal support core can withstand differential pressure greater over 75 PSI.
Low pressure drop.
Will remove extremely fine solid particles.
High efficiency at an economical cost.
Operation Specifications for these Coalescing Cartridges:
Flow Direction is inside to outside.
Recommended differential pressure for element change-out is 15 P.S.I.
Recommended maximum operating temperature is 240 ⁰ F.
Buna-N Gaskets are standard.
Standard Part Numbers and Dimensions:
WCT638R 6" O.D. -- 38" Long -- 3-1/2" I.D.
WCT643R 6" O.D. -- 43-1/4" Long -- 3-1/2" I.D.
WCT656R 6" O.D. -- 56-1/4" Long -- 3-1/2" I.D.