Heavy Duty Startup Strainers and Temporary Strainers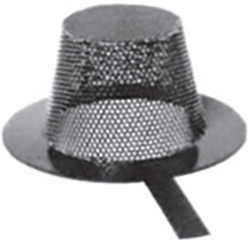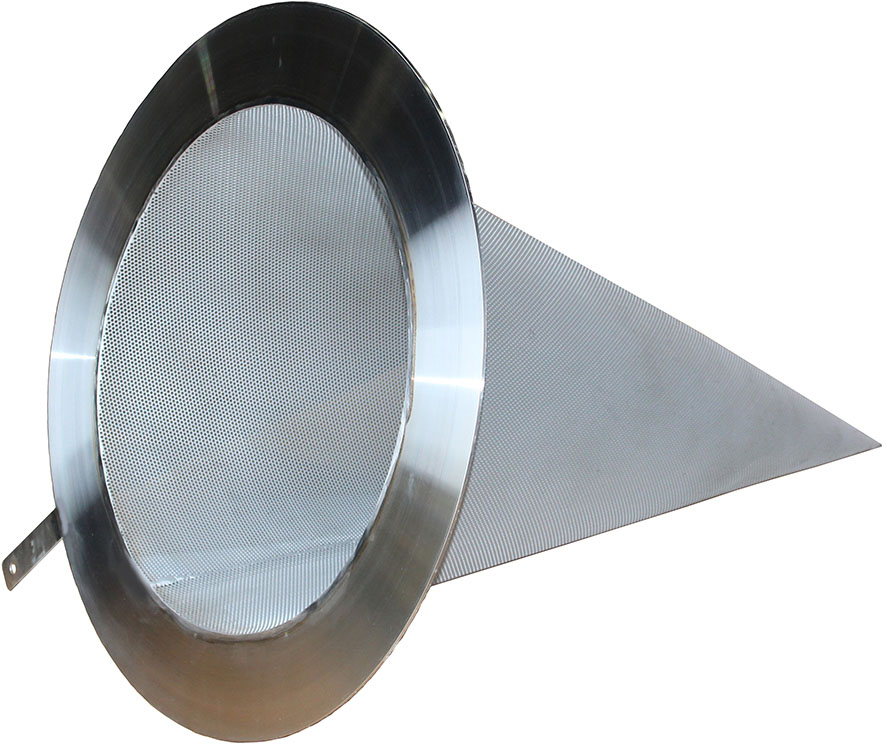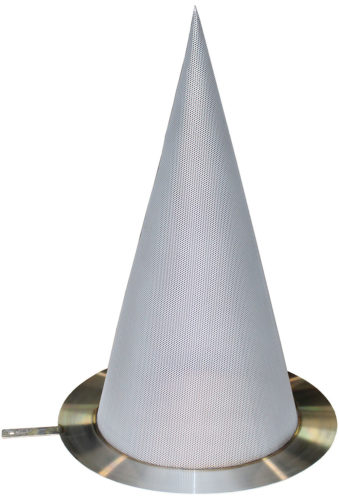 Winston/Royal Guard's Type 50-P cone strainers and Type 51-P basket strainers, commonly called startup strainers or temporary strainers, are furnished extensively for use in new piping installations to catch such things as weld slag, pipe scale, and other unwanted solids. However, many times after initial cleaning the "temporary strainers" are placed back in service for permanent protection of equipment.
Standard materials are Carbon Steel, 304 and 316 Stainless Steel, and are in stock for quick shipment.
Standard perforated plate is 1/8" diameter holes on 3/16" Staggered centers.
Standard mesh liner is 40 x 40 mesh with 0.0150" opening and 0.010" diameter wire.
Many mesh and perforated sizes are in our inventory.
Most requested alloys are either in our inventory or readily available.
Standard paddle ring thickness is 1/8" thick with smooth finish. Beginning with size 18" the paddle ring is 3/16" thick with machined finish.
Special designs, materials, and dimensions are available to meet individual customer needs.
Cone or basket selection:  A cone strainer, or conical strainer, is designed to catch debris and other solids after startup of a new piping installation, although in some cases the strainer may be left in the line permanently.  A basket strainer, or truncated cone strainer, has a flat end instead of a point and provides an equal percentage of open area in a shorter length.
Strainer installation direction:  Cone and basket startup strainers are designed for installation with the cone pointing upstream or downstream depending upon which direction there is sufficient room for the length of the cone or basket.  If there are no length issues, flow direction is up to the customer's preference.  If the strainer points upstream, debris will tend to collect at the strainer's paddle ring and it will be necessary to clean out any loose debris from the pipe.  If pointed downstream, the debris will collect inside of, and at the end of the strainer; thus easier to clean.
Open area:  Winston/Royal Guard temporary strainers, or startup strainers, are designed to provide 100% or more open area in the cone or basket prior to the addition of wire mesh.  Cataloged dimensions show lengths for 100%, 150%, 200% and 300% open area for each size of strainer in both cone and basket configurations.  These lengths are based on perforated metal with 1/8" diameter holes on 3/16" staggered centers and having 42% open area in the flat.  When using a flat strainer, or pancake strainer, with this material the open area is 42%.  A flat strainer is recommended only for applications where there is not enough room for a cone strainer or basket strainer to be installed.  In order to offer 100% or more open area, the perforated material must be designed in a cone or basket shape and lengthened to allow for the addition of wire mesh, if any.
The total open area required should be based on allowable pressure drop across the strainer; how much debris is expected to be captured after startup; and how long the strainer is expected to remain in service.  Cone and basket strainers are intended for temporary use although many customers leave them installed after the initial cleaning, especially in vapor flows.  These strainers provide a low-cost alternative to simplex strainers and other permanent strainers.
Wire mesh:  If wire mesh is required, the following must be determined:  the size of the particulate matter to be captured; the open area desired when considering how much flow restriction can be tolerated; the length of time the strainer is expected to remain in service; and whether the strainer will point upstream or downstream.  Regarding opening size, wire mesh can be considered absolute in the size of the openings as it is woven with exacting measurements.  Most wire mesh sizes must have a perforated metal support.  Wire mesh sizes of 5 x 5 (5 wires per inch in each direction) and larger do not require additional support material as the wires are heavy enough for the required strength.  The wire mesh will be placed on the outside of the perforated support if the strainer is pointed upstream, or into the flow, and on the inside for downstream installation.  The strainer's wire mesh layer is seam welded with silver solder and not simply spot welded as with some manufacturers.  Winston/Royal Guard stocks a wide variety of wire mesh and perforated metal in various sizes and materials.  Very large temporary strainers will require a thicker perforated material and thus the diameter of the holes will increase.
50-P is a cone strainer with perforated straining media only.
50-WIP is a cone strainer with wire mesh in the interior of the perforated support.
50-WOP is a cone strainer with wire mesh on the exterior of the perforated support.
51-P is a basket strainer with perforated straining media only.
51-WIP is a basket strainer with wire mesh in the interior of the perforated support.
51-WOP is a basket strainer with wire mesh on the exterior of the perforated support.