For Winston/Royal Guard Type 150 Natural Gas Filter-Separators and Type 65 Dry Gas Filters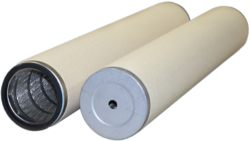 The WCL536 (0.3) filter cartridges with 0.3 micron rating are furnished in the Winston/Royal Guard type 150 Filter Separator for removal of aerosol size and larger liquid and solid particulates from natural gas.  Passing through the cartridges in an outside-to-inside flow path, solid particulates are captured and aerosol and larger entrained liquids are coalesced into droplets large enough to be easily removed from the natural gas stream by the separator element.  These cartridges are also furnished in the Winston/Royal Guard type 65 Dry Gas Filter for efficient removal of solid particulates such as rust, scale, and dust from natural gas.
The cartridge employs a depth type media with a combination of glass fiber and polypropylene materials supported by a steel core.  To provide the best structural integrity, the steel core is mechanically bonded to the end caps.  Each cartridge has a closed end with a center hole for mounting, and an open end complete with a Buna N gasket for sealing (other gasket materials are available).  The standard material for both the core and caps is tinned steel with stainless steel as an option.  The exterior of the cartridge is wrapped with a protective cotton sock.  
Benefits:
Graduated porosity of the depth type filter cartridge offers maximum dirt-holding capacity and coalescing of liquids.
Robust metal support core can withstand differential pressure over 50 PSI.
Low pressure drop.
Depth type cartridge offers efficiency at an economical cost.
Operation Specifications for these Filter Cartridges:
Flow Direction is outside to inside.
Rating of 0.3 micron at 99.9% efficiency (beta 1000).
Recommended differential pressure for element change-out is 15 P.S.I.
Maximum operating temperature is 180 ⁰ F.
Minimum operating temperature is 35⁰ F.
Standard Dimensions:
Standard Part Numbers and Micron Ratings:
WCL536 (0.3) for 0.3 micron and tinned steel core and end cap.
WCL536 (0.3) 304SS for 0.3 micron and 304 stainless steel core and end cap.
WCL536 (0.3) 316SS for 0.3 micron and 316 stainless steel core and end cap.