For Winston/Royal Guard Type 61V Liquid Filters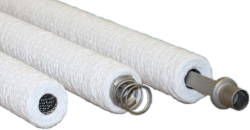 WCC Series wound filter cartridges are furnished in the Type 61V Vertical Liquid Filter for removal of solid contaminants from a liquid process stream. Filter applications vary widely and a range of filter cartridge materials and particle retention sizes are available.
Fiber material such as cotton, polypropylene or fiberglass, is wound around a center core for the desired filtration needs. The core may be furnished in several materials for the application. Furnished separately, 304 stainless steel is the standard material for the spring and cup assembly for the top hold down end and for the post and pedestal for the bottom tube sheet end.
Benefits:
Robust support core can withstand differential pressure over 35 PSI.
Low pressure drop.
High efficiency at an economical cost.
Operation Specifications for these Wound Filter Cartridges:
Flow Direction is outside to inside.
Available in micron ratings of 0.5, 1, 3, 5, 15, 20, 25, 30, and up to 200.
Many diameters are available from 2-1/4" to 6" and in lengths of 5" to 72".
Recommended differential pressure for element change-out is 15 P.S.I.
Standard Part Numbers:
WCCU20R30T is a typical part number.
U = cotton, P = polypropylene, F = fiberglass
20 is the micron size
R is the diameter of 2-1/2". Common diameters are W= 3", Q= 4", Y= 6".
30 is 30" long. Some common lengths are 19-1/2", 27", 30", 40", and 60".
T is core of tin plated steel, P= polypropylene, S= 304 Stainless steel.