Dry Gas Filters for reliability in the removal of solid particulates from natural gas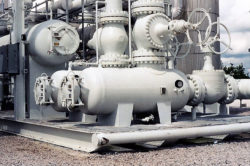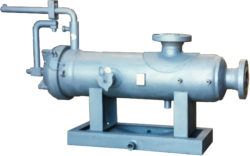 The Winston/Royal Guard Type 65 Dry Gas Filters efficiently remove rust, pipeline scale and dust from natural gas streams. The filter is generally offered in a horizontal configuration for better control of settled dust particles when changing out the filter cartridges. Filter cartridges can be fiberglass depth type or pleated for longer operation between change-outs.
How the natural gas filter works:  The gas entering the vessel flows into the filter cartridges from outside-to-inside, ensuring that the gas stream encounters the most surface area for the greatest holding capability. The depth-type filter cartridge is the most economical and does an excellent job of capturing solids. The pleated filter cartridge is a good choice for expected high solids loading and has a very low clean pressure drop.
Filter cartridges are available in 0.3, 0.5, 1, and 5 nominal micron ratings for 99.9% particle removal.
Optionally, pleated dry gas filter cartridges with either 99.9% efficiency (beta 1000) or 99.98% efficiency (beta 5000) are available with a 1 micron rating.  With a pleated design, these filter cartridges offer a longer service life between cartridge change-outs resulting in lower maintenance cost and reduction in lost gas revenues.